2007 statistics on global human trafficking state that in the neighborhood of 1.2 million people are sold into slavery annually. That was up from around 800,000 in 2005 by Department of Justice accounting. I'm guessing that close to 2 million people will have been sold into slavery this year alone by the time January rolls around. So, every minute, nearly 4 people are disappeared as commodities. 95% of them are sexually abused. 70% are female. 50% are children. Almost all are under 21 years of age and most are at least marginally educated.
THEY GROW UP FAST is several thousand volts of flickering testimony to the brutal efficiency with which human traffickers grind lives into ruin. STUDENT #1 / GIRL is the first of two editioned visitordesign works addressing contemporary slavery. Manufactured by LiteBrite in Brooklyn from visitordesign drawings, THEY GROW UP FAST is a component of a larger conceptual visitordesign project in progress.
Additional info on They Grow Up Fast here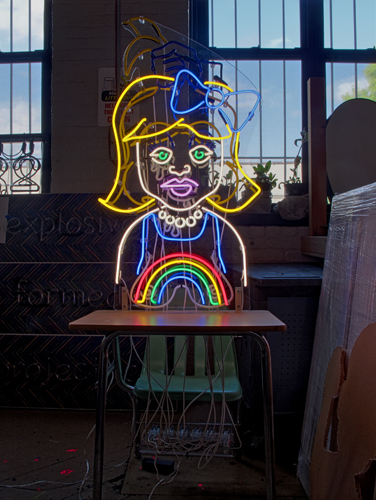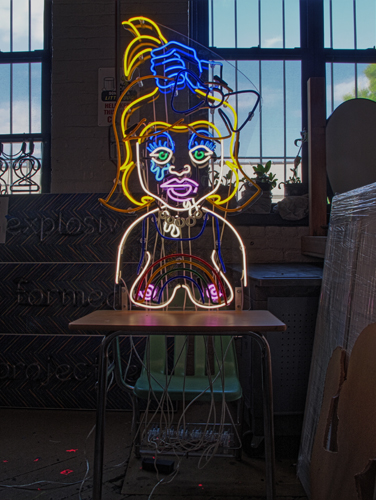 Dimensions are around 80″ x 24″ x 30″.
3-stage neon sculpture on child's school desk. Edition of 4 plus artist prototype.
Price available by request. The GIF below is animated
(depending on your browser, you may need to wait around 30 seconds for the animation to begin cycling).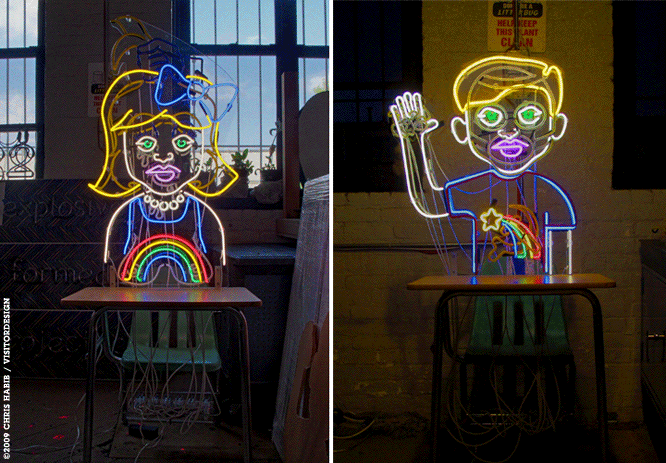 Tags: chris habib, edition, experimental, human trafficking, neon, politics, sculpture, sex slavery, visitor design