I don't really recall the context of the request–which isn't unusual of anything involving Dylan Nyoukis, but I was asked to provide Chocolate Monk with an album of my tracks. Tracks? What the fuck?
I don't know how exactly Dylan was made aware that I'd been recording anything. I may have slipped him a CD-R at a show at the Knitting Factory that he was in town for, but for the life of me, I have no recollection of the details on this one.
So, tracks… I had these microcassette tapes I had been recording. They were analog synth and vocal experiments. There were two distinct avenues I was exploring–pedal processing (usually just delay and phase) and pedal/synth processing, but in both cases, the fundamental signal being manipulated was just voice–none of this bleep-bloop synth stuff. I wanted to keep everything human.
I pulled together a set of tracks–evenly split between the two concepts I'd been playing with. I named each track for the designer of a chair that best suited the sounds. Dylan actually released it. I couldn't believe it.
I've only ever performed the material live once–at the No Fun Fest. It was a battle between Mokinox and Glamorous Pat. We both ended up naked in a room full of a couple-hundred confused onlookers. I had an inverted crucifix taped to my dick and was smashing Jesus on a contact mic. I lost him that night–Jesus. I still have the cross, but I don't think it's technically a crucifix anymore if ol' J.C.'s given up the ghost.
A little-known tidbit is that the interstitial, title and credit noise on the FUN FROM NONE No Fun Fest DVDs I did for Load Records is from the unreleased Mokinox cassette, Cherbourg.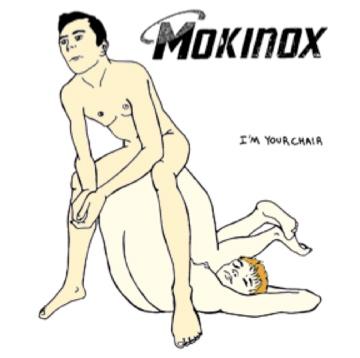 Tags: analog synth, chocolate monk, chris habib, mokinox, noise, sound poetry, vocals